High pressure air compressor
High-pressure air compressors are machines that are used to pressurize fluids such as air and gases that are compressible. These devices increase the pressure based on the compression and reduction of the volume of the fluid inside the chamber.
Pars Company is a supplier of high pressure air compressors, screw compressors, 30 bar air compressors, 40 bar compressors and 50 bar PET compressors from the best brands in the world with the best quality and the most reasonable price. Contact us for advice and placing an order to buy all kinds of compressors.
High pressure compressors of Pars Danesh Banyan Company
Dear customers and buyers, you can talk to our experts to decide which industrial air compressor is best for your application. We provide complete end-to-end solutions for your business, from quality products to exceptional service options. We believe that improvement never stops and strive to ensure that you receive an innovative and efficient compressed air system. Our other compressed air products include reciprocating compressors, air dryers, air piping and compressed air purification solutions.
30 bar air compressor, 40 bar and 50 bar compressor
30 bar to 50 bar air compressors are used for many industrial applications.
High pressure air compressors are used for various industries. We offer a wide range of compressed air compressors that are suitable for many applications.
Especially suitable for: water and electricity, PET bottle blowing, leak detection and other fields
1. The valve material is made of stainless steel strip.
2. In order to ensure that the air compressor is very reliable, using additional design principles, setting multiple protection measures: discharge, low discharge, exhaust, ensure that the starting pressure is zero.
3. Timed drain valve: drainage takes place in an adjustable time interval. Ensure that the air compressor works continuously between normal drainage, and effectively prevent accidents caused by excessive liquid collision.
4. Low exhaust temperature (10.0MPa outlet air temperature ≤ 170 degrees, the outlet air temperature is higher than the ambient temperature by 15-20 ℃ after cooling).
5. Fuel consumption per hour less than 0.143/KW.
6. High reliability and long maintenance period, very low fuel consumption, low energy consumption, etc., greatly reduce the overall operating costs.
Pars Company offers a variety of air compressors that are suitable for your specific industrial needs.
How the high pressure air compressor works
The parts of a compressed air reciprocating compressor all work together to create compressed air. There are significant differences in the way reciprocating compressors are used. One such difference is the number of steps in which compression is performed.
Each of our reciprocating air compressor ranges is unique to ensure you find the right compressor for your application. With this complete range, there is sure to be a suitable reciprocating compressor for your application.
Designed for professional and semi-professional users
Our reciprocating air compressors are designed to provide a complete range for all types of applications. We have reciprocating compressors ideal for the semi-professional, professional or industrial user. Enjoy long life and user comfort with our reciprocating air compressors.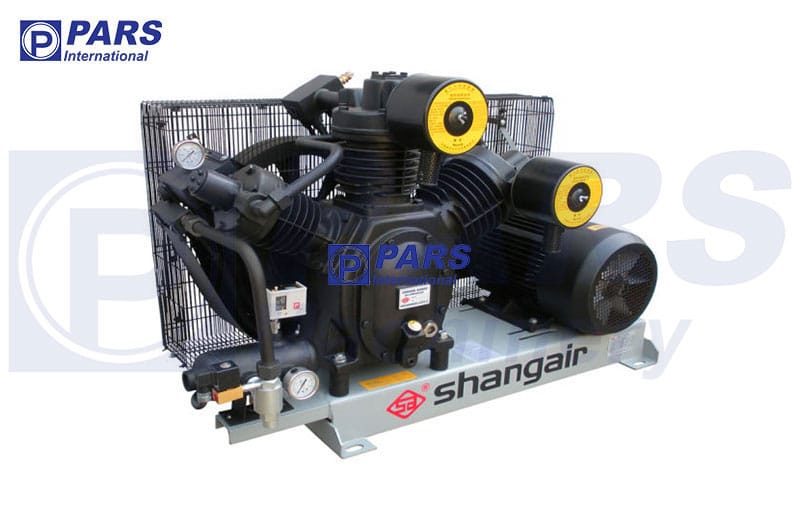 We provide end-to-end solutions for your business because we want to ensure that you get a complete business solution.
Our complete solutions range from reliable, energy-efficient compressed air products to exceptional service options. Contact us today to learn more about our high-quality industrial solutions.
Oil free compressors
Oil free high pressure compressors that your compressed air is completely free of oil. Oil-free air compressors are the perfect choice when you need the confidence to know that you have 100% oil-free compressed air in your work. Oil-free air compressors eliminate the risk of oil vapor in your compressed air system. It guarantees oil-free compressed air that no other air compressor can.
According to the oil-free standard
Our oil-free air compressors are 100% oil-free and have the highest air purity, eliminating the risk of oil contamination. Trust our air compressors for the purest compressed air without any risk of air pollution to the product and enjoy clean air.
Sustainable production
Oil-free air compressors have the advantage of minimal leakage and energy loss. With Pars oil-free compressors, you can protect the environment and get the stability you need. An oil-free air compressor gives you the peace of mind that vital processes are not at risk of contamination.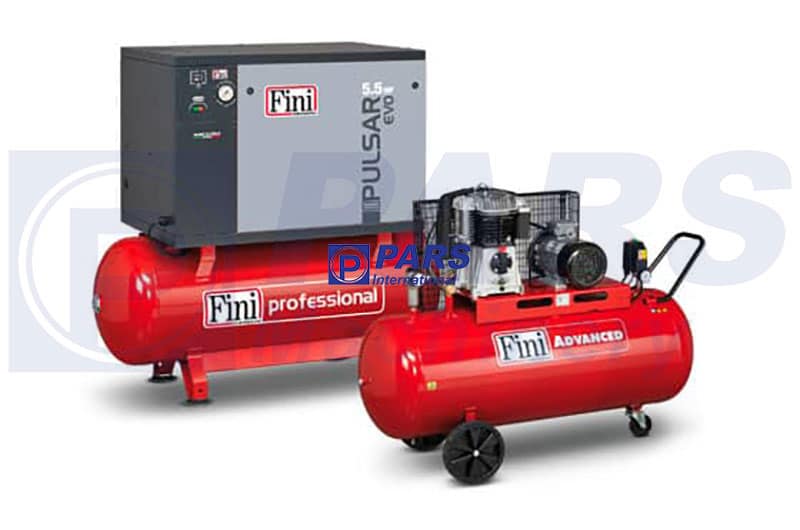 reduction in costs
Costs are reduced with oil-free air compressors in filter replacement, oil condensate treatment, and filter pressure drop. Maintenance costs are low for oil-free air compressors, helping to keep costs down. No risk of contamination to the product also means that there will be no production downtime due to contamination.
Reliable oil-free compressors
An oil-free air compressor is a worthwhile investment because you'll get outstanding reliability, low maintenance, and low operating costs.